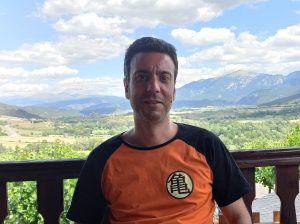 My name is Lluís Martí-Aguilera. For now, I'm a writer and a computer engineer, but I'm trying to be more things.
As a writer, I've published La resta és ficció and Com s'ha fet «La resta és ficció». Both in Catalan.
As a computer engineer, despite having experience as Sysadmin (3 years) and Java EE developer (16 years), now I'm interested in mobile app programming. I've developed L'avi (The Grandpa), available for Android and iOS.
Finished studies: Computer Engineering (UAB, 2004), Master in TV Entertainment (UOC, 2011)
Now I'm studying Postgraduate Course in Innovation and Design Thinking at Barcelona School of Management (UPF, 2022-2023).