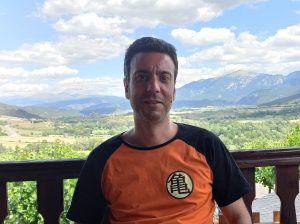 My name is Lluís Martí-Aguilera. For now, I'm a writer and a computer engineer, but I'm trying to be more things.
As a writer, I've published La resta és ficció and Com s'ha fet «La resta és ficció». Both in Catalan.
As a computer engineer, I have experience as Sysadmin (3 years) and Java EE developer (16 years). Also, I've developed mobile apps (in Dart/Flutter), such as L'avi (The Grandpa), available for Android and iOS.
Finished studies: Computer Engineering (UAB, 2004), Master in TV Entertainment (UOC, 2011), Postgraduate Course in Innovation and Design Thinking (Barcelona School of Management/UPF, 2022-2023).